Rice Cracker Business – Japan
Japan's Leading Rice Cracker Company
KAMEDA SEIKA is Japan's leading company, with a 30% share of the domestic rice cracker market. The fact that we have continued to hold the top spot in the rice cracker business for over 40 years since 1975 is proof of our dedication to meet the diversifying needs of our customers in addition to the requirements for food safety and security, and to continue to manufacture rice crackers that are delicious and fun to eat. Many people are familiar with our arare and osenbei rice crackers, including our long-selling brands of "KAMEDA Kaki-no-Tane" and "Happy Turn", which typify KAMEDA SEIKA.
In 2004 we acquired two companies. The first was Toyosu, which had a history of over 100 years in the Kansai region of Japan, as well as strong brands. The second was Nisshin Seika, a traditional manufacturer and seller of rice crackers with roots deep in Tochigi Prefecture. By working together with our domestic group of companies, including Ajicul that has expertise in the areas of tourist souvenirs, theme parks, and amusement facilities, we have focused our efforts in the rapidly growing EC market and have built up a distribution network that can service a range of sales channels.
As a leading rice cracker manufacturer, KAMEDA SEIKA will stay ahead of the ever-changing market environment. Through innovation in our long-selling product lines and the development of eating scenarios through new types of rice crackers, we will energize the rice cracker market and offer health, gusto, and excitement to all of our customers.
The 12 Main Brands that Represent KAMEDA SEIKA
Our 12 main brands have evolved with the changing times. They are ones that are loved by our customers and typify KAMEDA SEIKA. "KAMEDA Kaki-no-Tane", "Tsumami Dane", and "Usuyaki" are three brands that make perfect appetizers and snacks. The concept behind the "Happy Turn" name was the hope for the return of happiness to our customers. "KAMEDA Magari Senbei", "Potapota Yaki", "Soft Salad", and "Age-Ichiban" are ideal as snacks when families spend time together. Our traditional rice cracker brands are "Teshioya", "Waza-no-KodaWari", and "Katabutsu". "HaiHain" crackers for children are formulated to be hypoallergenic. While these 12 brands form the main product lines, it is the mission of KAMEDA SEIKA to bring out new products to respond to the times and to vitalize the rice cracker market.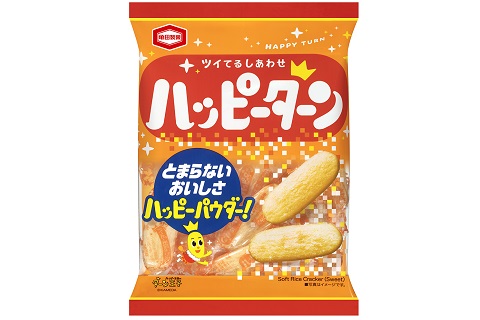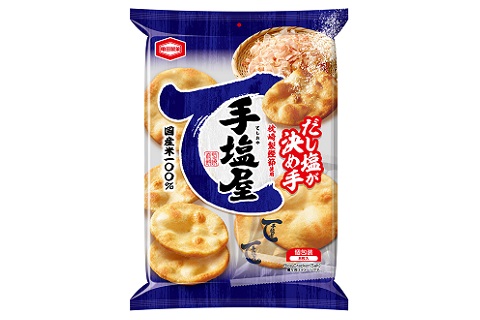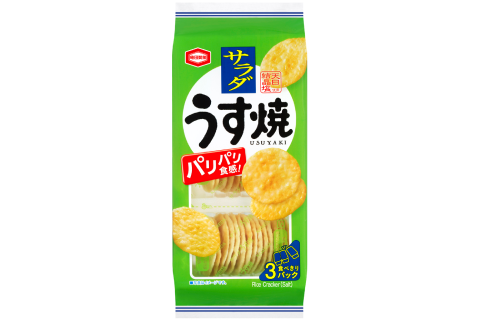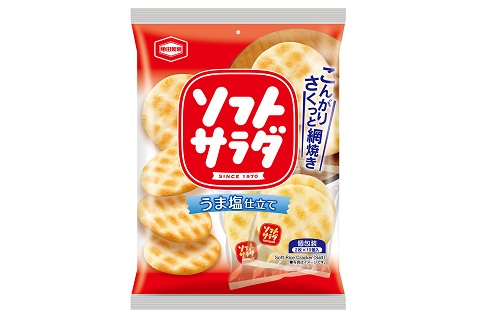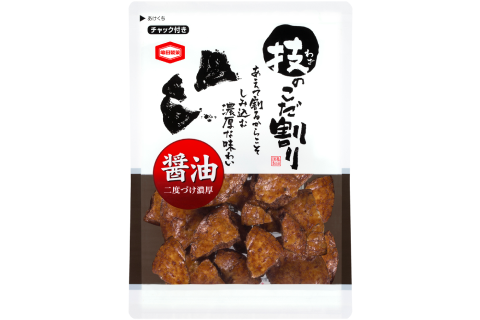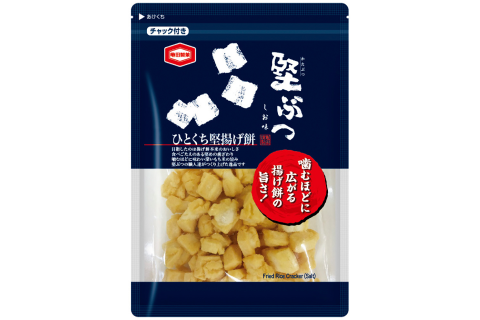 The Innovation and Challenge of "KAMEDA Kaki-no-Tane"!
In the over half a century since the sale of "KAMEDA Kaki-no-Tane" crackers with peanuts began in 1966, it has continued to be a long-selling brand that is loved by our customers. In recent years, we have collaborated with KAMEDA SEIKA Group companies in order to enhance our product lineup and sales channels, including in Toyosu's "Kakitane Kitchen", Ajicul's "KAMEDA Kaki-no-Tane Local Limited Edition", and our Concept Shop's "TANEBITS". In 2017, "KAMEDA Kaki-no-Tane" gained certification as a Japanese space food from the Japan Aerospace Exploration Agency (JAXA). In the future, we expect that "KAMEDA Kaki-no-Tane" will accompany Japanese astronauts into space. "KAMEDA Kaki-no-Tane", a brand synonymous with KAMEDA SEIKA during our history, continues to take on new challenges and to undergo innovation to make our customers happy.
"KAMEDA Group distribution network" across all channels
KAMEDA SEIKA together with it's group companies, has a strong distribution network across all channels. KAMEDA SEIKA and Nisshin Seika have a strong power over supermarkets and convenience stores, and Toyosu has strengths in department stores, while Ajicul has a solid base in other channels. KAMEDA SEIKA has built such flexible distribution network so as to be able to immediately react with any market changes.
Group Companies in the Domestic Rice Cracker Business
Ajicul Co., Ltd.
Ajicul manufactures and sells rice crackers through a wide range of sales channels. Ajicul is developing and launching products to meet a wide range of customer needs, including souvenir products, products for theme parks, and novelty goods.
Toyosu Co., Ltd.
Toyosu manufactures and sells high-quality rice crackers that are used as gifts and souvenirs. Their brands include the traditional "Arare Toyosu", which began production in 1902, and the first Kaki-no-Tane specialty shop in Japan "Kakitane Kitchen". Toyosu is expanding the distribution of its brands in department stores, and shops at railway stations and airports.
"Toyosu Rakumido" can be purchased in the specialty store section of supermarkets nationwide.
Nisshin Seika Co., Ltd.
Nisshin Seika manufactures and sells rice crackers. Its headquarters and factory are in Utsunomiya-shi, Tochigi Prefecture. It produces traditional local rice crackers as well as the gift and souvenir brands of "Edo Sen Sharaku" and "Nikko Mochi Honpo".