Our Commitment to Quality
KAMEDA SEIKA is committed creating safe and reliable products that bring customers health,
excellent flavor and excitement.
Bringing digitalization and standardization to artisanal processes for delicious, consistent products
Each day, we produce a wide variety of products at our factories. Our challenge is ensuring that these products maintain the same consistent taste and high quality throughout the year. To do so, we manage the manufacturing process through standardization using numerical data. For example, we cut KAMEDA Kaki-no-Tane to a thickness of precisely 1.6 mm, then bake them at high heat between 200°C and 300°C. In the hot summer months, we cool the dough using water cooled to 5°C in order to ensure that the product has the same texture year-round. This method of utilizing data for consistency allows us to adapt the techniques that our artisans have developed over the years to fit our current mass-production model—it really is the embodiment of our craftsmen's fastidious approach to delicious taste.
Hourly taste checks to maintain quality
In addition to managing our production using standardization data, we also carry out a further type of stringent inspection: taste inspection. Personnel who have passed a challenging in-house exam to become taste inspectors taste the actual product while in production in order to confirm that our quality standards have been met. This inspection is undertaken hourly to ensure that fixed quality is maintained at all times by confirming aspects of the product that a machine cannot detect, such as flavor, smell, and texture.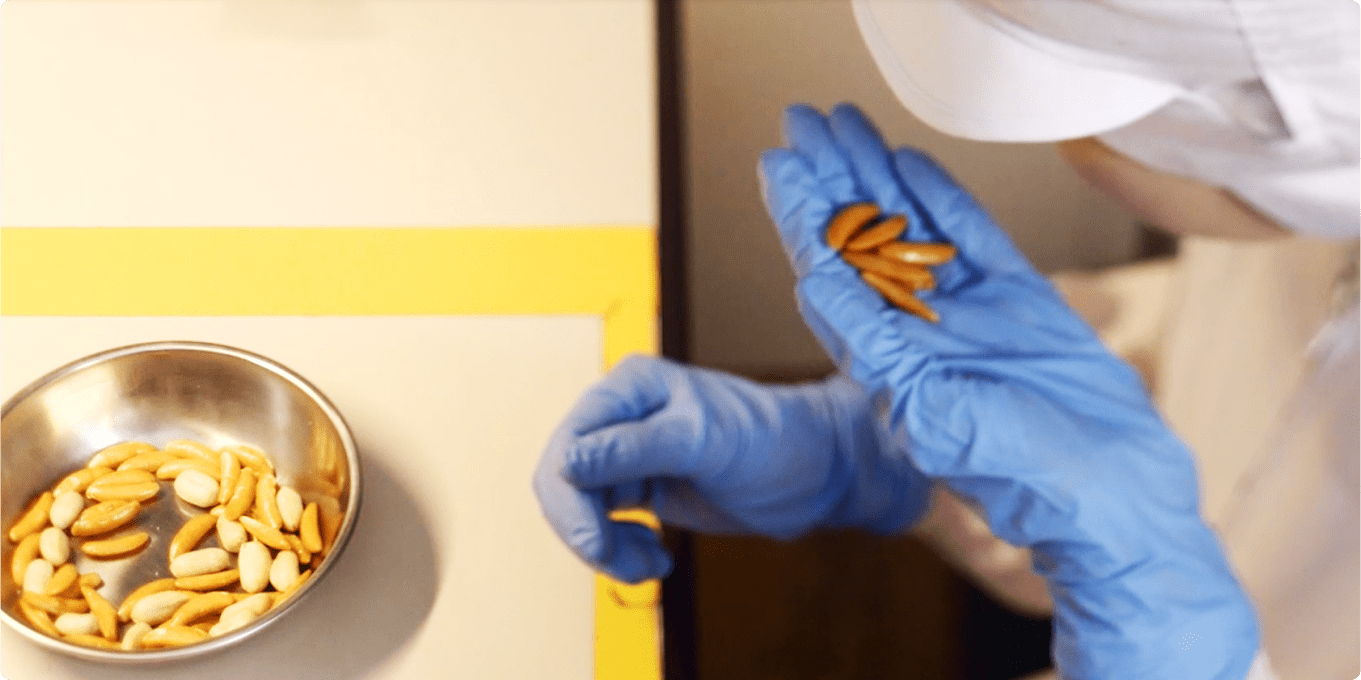 Thorough quality control prevents contamination
We take every possible measure to ensure the safety of our products. At our factories, employees are required to wear specialist uniforms, including hats and face masks, and wash their hands thoroughly upon entering the production area. We also use air showers and automatic shutters, and have multiple levels of measures in place to prevent contaminants from coming into contact with our products. On the production line, there are a variety of sorting machines which are used to ensure no contaminants are present in the ingredients, and finished products are checked using X-ray equipment to verify that no contaminant has entered during the manufacturing process. These, along with other measures, ensure the safety of our products. Furthermore, our four factories in Japan have all acquired FSSC 22000, an international food safety standard.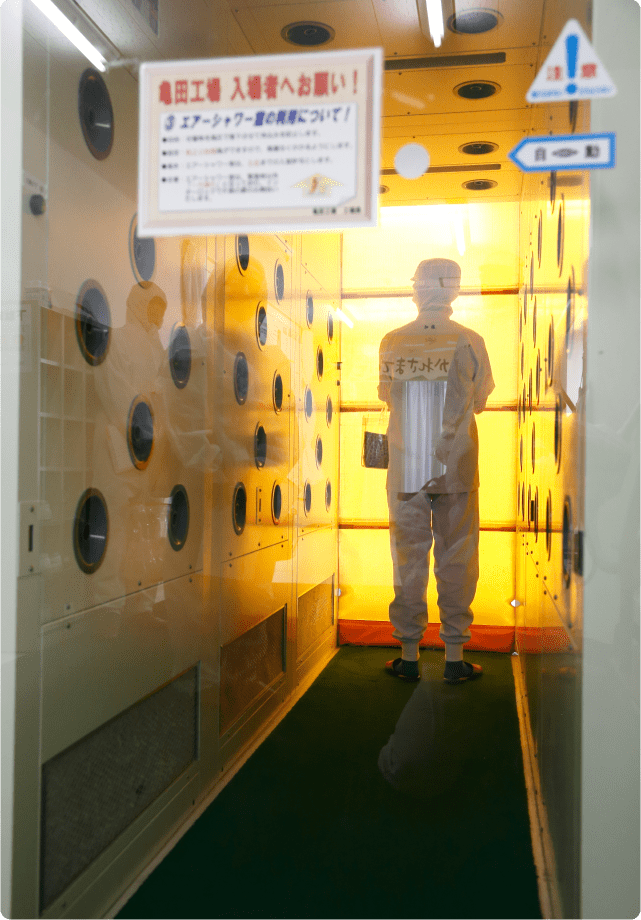 A meticulous approach to texture and seasoning
In order to make our rice crackers especially delicious, we do not compromise on texture and seasoning. For instance, for our product Happy Turn—which first launched in 1976—we reformulated the product a number of times in order to create a flavor that now reflects the following sensory flow: saltiness → sweetness → umami → sweetness. Our Rice Research Center visualizes these tastes (via sensory evaluation) to clarify the processes involved. For our other products, too, we conduct customer surveys, and through repeated trial and error we have been able to develop delicious products that meet our customers' preferences.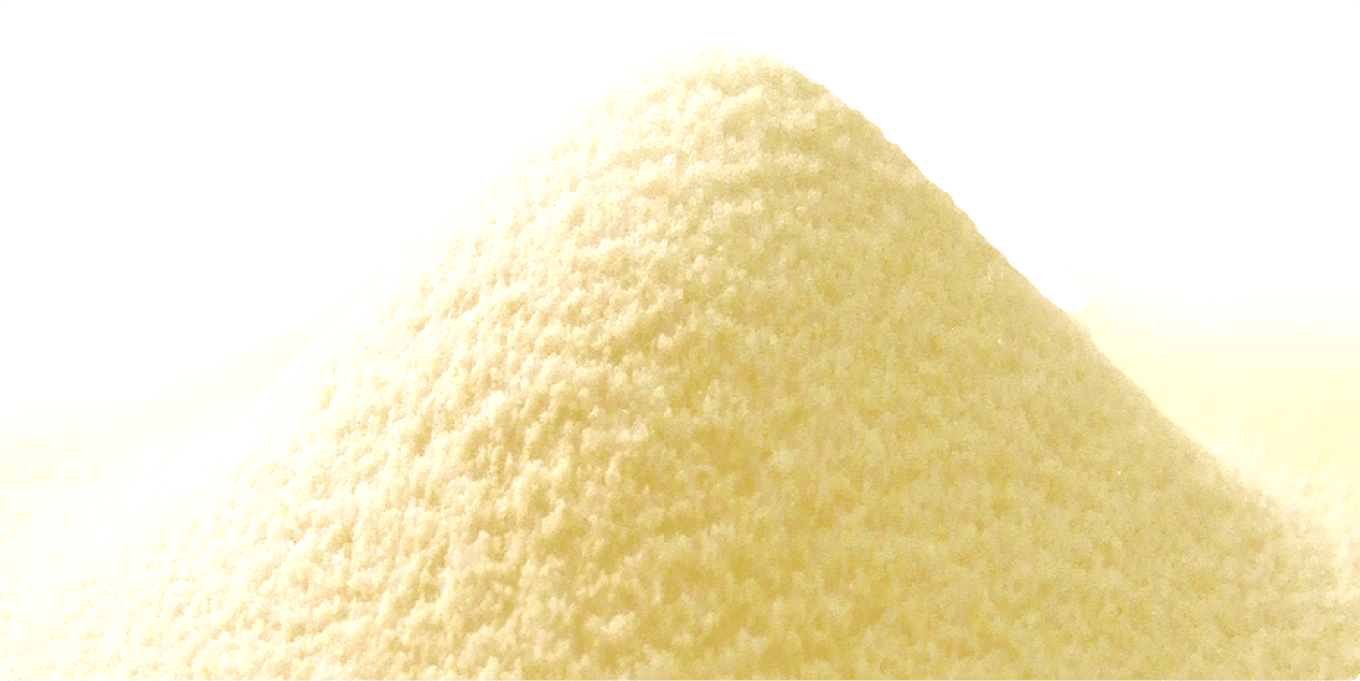 Stringent checks for radioactive materials
To ensure peace of mind for our customers, we also conduct stringent checks on whether any radioactive materials are contained in our ingredients. We make sure that we use suitable ingredients, based on the results of monitoring surveys by national and local governments as well as new standard limits for radioactive materials in foods that were put in place in April 2012. In August 2011, we installed radioactivity detection equipment (NaI scintillation survey meter/gamma-ray spectrometer) and we are using it to continuously carry out sampling inspection of domestic rice used at each factory. Furthermore, we regularly ask external inspection bodies to conduct third-party analysis, so we are repeatedly confirming the safety of our products.
Ingredients with guaranteed quality and safety
We acquire written assurances of compliance with applicable raw material standards for the ingredients that we use. These documents specify a range of information. For agricultural products, this includes growing records logging data on the production area and pesticides or antibiotics used, and in the case of processed products, details include information about ingredients, additives, and contaminants during the manufacturing process. By working with suppliers and factories, we are able to secure traceability. In addition, we conduct our own inspection and analysis both in-house and externally of all ingredients. For rice, its place of origin is labeled on the back of the applicable product based on the Ministry of Agriculture, Forestry and Fisheries' "Rice Traceability Act*," a traceability system for rice/rice products.

*The Rice Traceability Act is a law regulating the keeping of transaction records and transmitting place of origin information relating to the rice and rice products trade, etc. Rice crackers, for which the main ingredient is rice, are also covered by this act, and so we are obligated to create and store records of our rice-related transactions, etc., and to provide customers with place of origin information.
Applying customer feedback to product development
The opinions and requests received by our Customer Service Office are unfailingly passed on to our factories and relevant departments, and put to use to improve quality and develop products. Specific examples include: adding information on the number of crackers per packet to the weight in grams on the back of product packaging, or, in the case of individually packaged products, changing from displaying the total number of crackers to showing the number of crackers in each individual package. In such ways, we have amended the labeling information for some products. There are many other cases where we have made improvements based on customer feedback, including slimming down packaging out of consideration for the environment and sustainability, making tray lids easier to remove, and changing the color of text on individual wrappers to make it easier to read. We are committed to listening carefully to the feedback from our customers, and strive to use it to provide better products.